SalivaScan

™

Oral Fluid Drug Test with sponge saturation indicator
Note: For forensic use or international distribution only. This product is only offered to approved distributors.
The DrugCheck® SalivaScan™ oral fluid drug test includes the first sponge saturation indicator on the market. No more throwing away devices due to inadequate specimen in the saliva drug test. The indicator strip in the collection swab changes color once the sponge contains enough saliva. The swab locks into the device for a tamper evident and airtight seal.
Groundbreaking saliva drug screening features:
Sponge saturation indicator (Patent Pending)
Market-leading drug cutoffs ? No buffer required

Buprenorphine: BUP 5
EDDP 20

0.02

50 ng/mL

5 ng/mL

10 ng/mL

20 ng/mL

20 ng/mL

30 ng/mL

50 ng/mL

40 ng/mL

20 ng/mL

10 ng/mL

12 ng/mL*
* Metabolite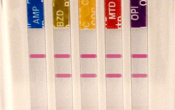 100% tamper evident with saliva held in airtight chamber for confirmation
Advanced oral fluid collection media (sponge)

Sponge reduces viscosity for faster-running tests and more uniform results
Highest recovery of THC (marijuana)
No ascorbic acid ? No additives

Detect up to 10 drugs including alcohol
One drug per strip for superior accuracy and sensitivity
Easy access extraction ports for lab confirmation
100% made in the U.S.A.
Crystal-clear container with magnification of the results window
Compatible with VeriCheck™ Results Manager system or photocopy/scan results
CE marked
SalivaScan Procedure Video

Procedure Video

SalivaScan Product Insert — Forensic Use Only (U.S.)